Website of the official app 1win for India. Download the latest version of the app for android, iPhone and install for free. There is also a mobile version of the site.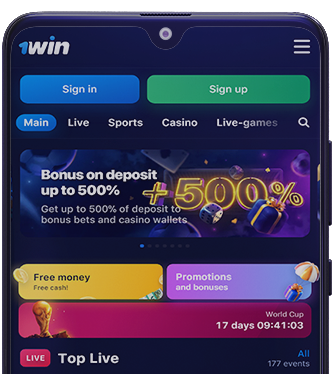 1Win App Install and Download in India | Actual Mobile application
1Win is an international betting operator that has been providing services since 2016 under a Curacao gambling licence. It has a working software for smartphones and tablets, with an interface and features identical to the company's official website. The app supports sports betting, slots, virtual sports, cyber sports, live casino, poker, lottery draws and TV games.
The 1Win app offers a wide range of user settings and options to use all the services of the betting platform. Registered players are offered tools for depositing and withdrawing funds, promotions, and channels for contacting support. The developers are constantly improving the mobile app: each new version performs better than the previous one.
| | |
| --- | --- |
| Software version | 1.5 |
| APK size | 28.48 MB |
| Application size | 33.48 MB |
| Supported Android version | 5.0 and newer |
| Supported iOS version | 10.0 and newer |
| Installation | Free |
| Languages | Hindi, English |
| Services | Sports betting, live betting, virtual sports, video slots, TV games, quick games, live casino, poker |
| Payment methods | Phonepe, PayTm, IMPS, BHIM, MoneyGo, Perfect Money, Airtm, Bank transfer, Cryptocurrency |
| Currencies | INR, USD, CAD, BDT, EUR, BYN + 41 more |
| Minimum deposit | ₹300 |
| Minimum output | ₹1 000 |
| Video broadcasts | After registering |
| Welcome bonus | 500% to ₹101 250 |
1Win App Download for All Device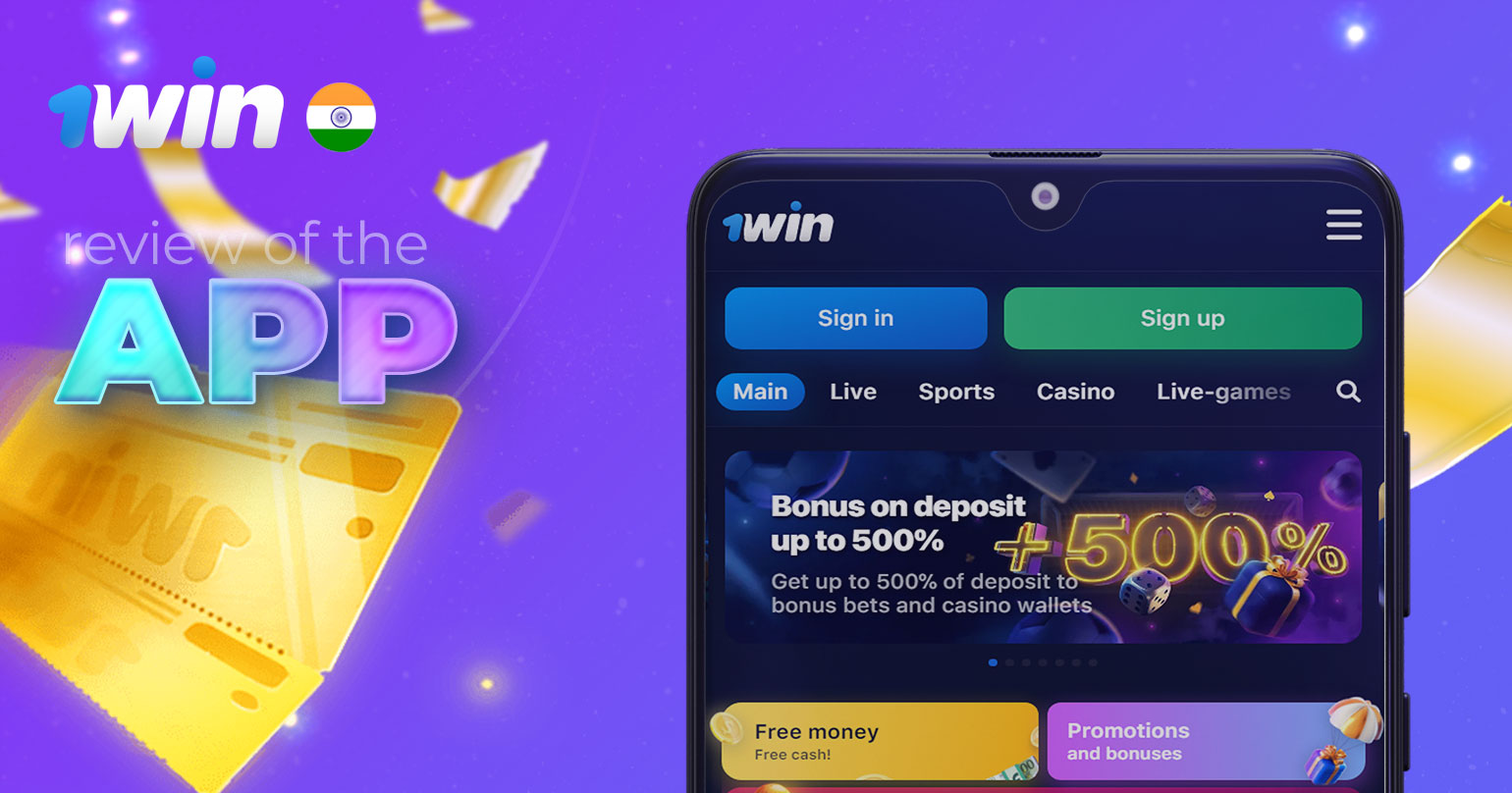 1Win has applications for Windows, MacOS, iOS and Android computers and mobile devices.
All versions have the same features, giving you access to all 1Win gaming products:
Live events for betting in real time;
Sports – offers for betting on upcoming games;
Casino – video slots with the option to play in test mode;
Live-games – live dealer gaming tables;
Statistics – section with statistics on different sports;
Cybersport – cybersport matches for pre-match and live betting;
Fantasy Sport is a game in which you can form teams of professional athletes;
Aviator is a popular crash game with instant payouts;
1Win games – gambling entertainment from 1Win;
Betgames – crossover betting on sporting events, casino games;
Vsport – sports simulators for betting on tennis, cricket, basketball and football;
TVBET – live gambling from the global TV entertainment provider;
Games – games with simplified graphics and instant payouts;
Poker is a poker room with a game of Hold'em and Omaha with other platform users;
Leaderboard – tables of leaders participating in daily and weekly tournaments;
Cases – several versions of an online lottery with guaranteed prizes;
Twain Sport – betting on dynamic HSL sporting events.
Through the 1Win mobile app you can register and log in, watch live broadcasts, make changes to your personal data, communicate with support, and participate in promotions.
1Win App for Android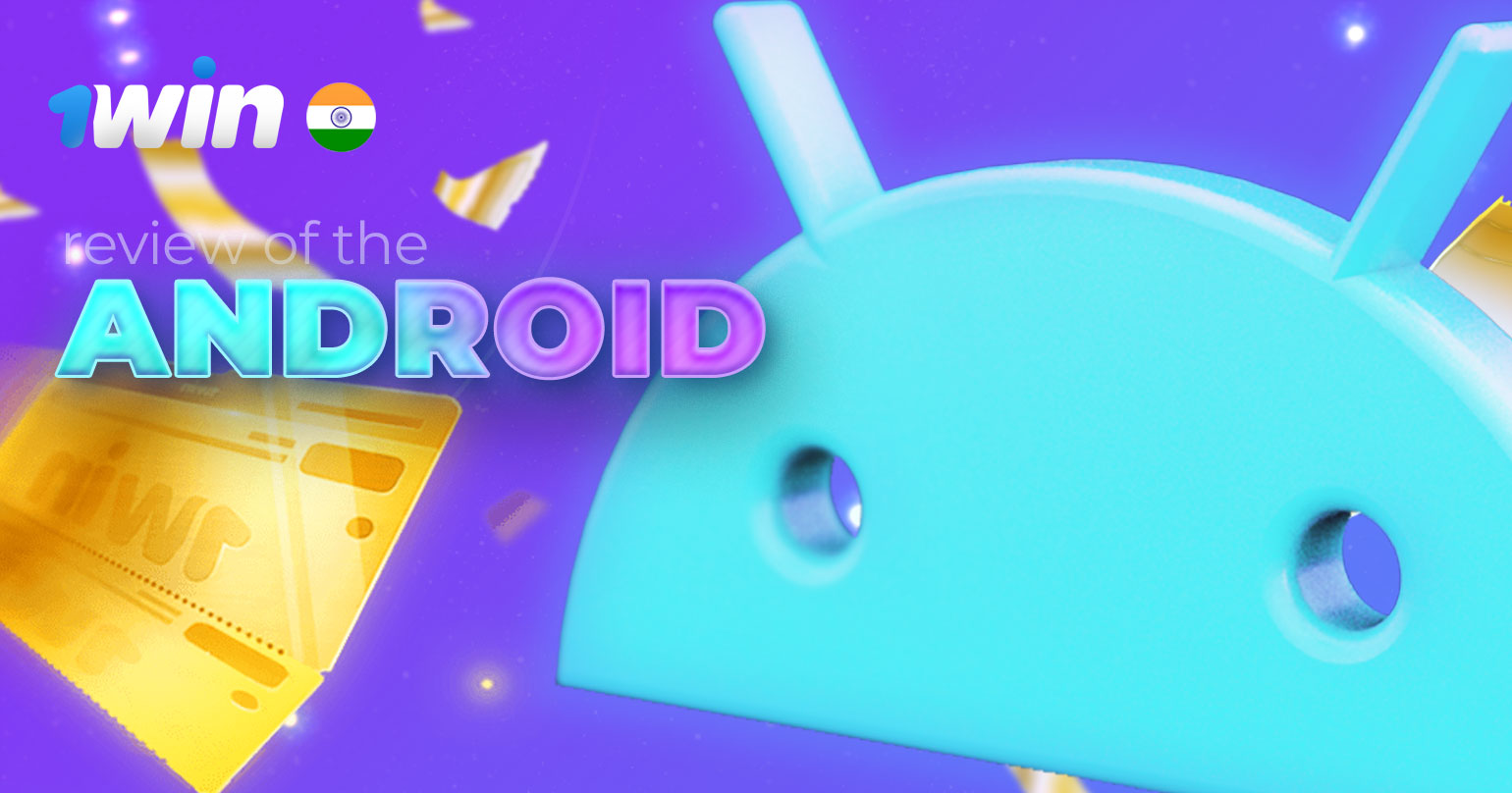 The software supports betting on more than 25 sports. The Sports and Live betting sections search for championships, leagues and individual events by keyword. Over 11,000 gambling activities are available, 8,500 of which are licensed slot machines. Most of them can be tested for free by activating the game's demo mode.
When the 1Win app review was compiled, mobile players were offered the same functionality and choice of entertainment as on the website. The software provides 100% computer independence. Use it to manage personal data and financial transactions, connect to promotions and register for tournaments.
System requirements:
| | |
| --- | --- |
| Android version | 5.0+ |
| RAM | 2GB |
| ROM | 50 MB |
| Processor | 1 000 MHz |
| Internet connection | 3G, 4G, 5G |
How to Download for Android (apk)
Users will not be able to 1Win app download from Play Market, due to Google's internal policy regarding gambling software. The installer is available on the official website of the betting platform. Before it can be launched, restrictions on installing software from third-party sources must be removed. If this is not done, the system will interrupt the installation process or the software will not work correctly.
Use the step-by-step instructions to 1Win mobile app download to your smartphone:
1
Open the 1Win website. Visit the betting platform from a handheld device.
2
Go to the mobile software section. Scroll down the page and click on "Application for Android".
3
Download the 1Win apk file. A prompt will appear on the screen: click "Yes" to confirm the software download.
If you intend to for 1Win app download apk, make sure you have enough free space on your device. The software will be updated from time to time, so the ROM capacity should be at least 100 MB.
How to Install Apk Version
As we've already mentioned, you'll need to change the security settings before running the installer. Go to the appropriate section of the smartphone and allow software installation from external resources. After this there are only a couple of steps left to take:
1
Open the "Downloads" folder;
3
Activate the "Install" option.
That's it! If you have done everything correctly, in a couple of minutes the 1Win icon will appear on your device. Click on it to launch the app and log in. If you are not already registered, open your account from your phone.
How to Update Android App
The betting company has been listening to the wishes of players by adding new tools, features, game services and other features to the app. The developers also fix bugs that have been detected, making it more stable and faster. This makes it necessary to update the software periodically.
1Win app for Android searches for new files by itself. There is no need to uninstall the old version and download the new one from the website to use the current software. All the player has to do is not reject the prompt to install the update, which will appear from time to time on the screen while the app is running.
Loading the current software takes half a minute:
1
Open the mobile app on your phone;
2
Press "Update" on the tooltip;
3
Wait for the new files to be installed.
If the app is malfunctioning, the recommendation to install updates does not appear. If this is the case, it is advisable to uninstall it and 1Win download on the office website.
1Win App for iOS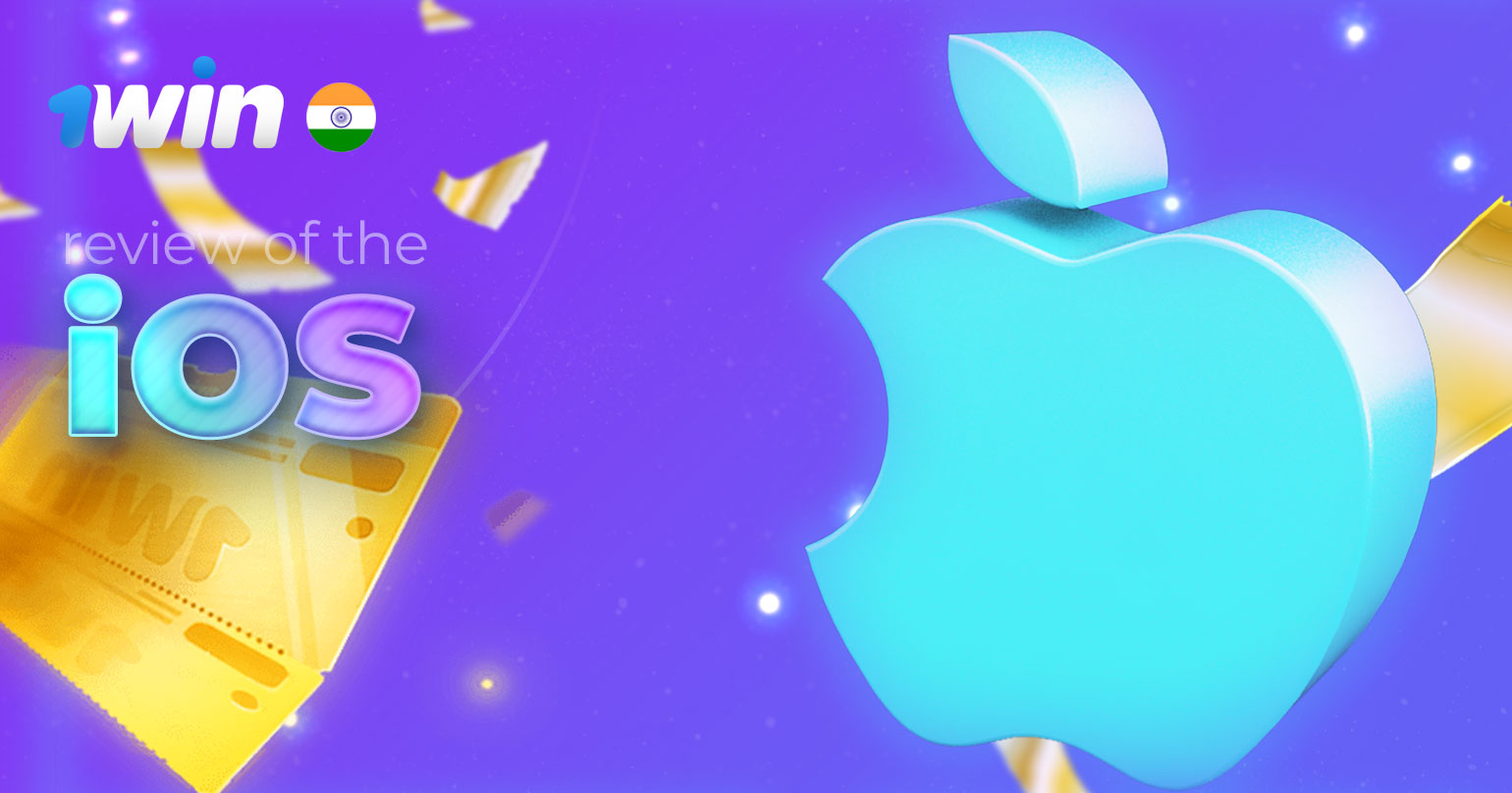 The iPhone app comes later than the Android version, but functionally they are identical. You can use it to make sports forecasts, watch live matches, deposit and withdraw money, use bonuses, run slot machines, use real-time statistics and ask for help from support.
| | |
| --- | --- |
| iOS version | 10.0+ |
| RAM | 2GB |
| ROM | 50 MB |
| Processor | 1 000 MHz |
| Internet connection | 3G, 4G, 5G |
How to Download for iPhone
Users will not be able to 1Win India app download from the AppStore catalogue, as the installer is only available on the official website. To download and install the software on the iPhone, one has to:
Open the company website in the Safari browser;
Go to the side menu and click "Application";
Launch the ipa file and confirm installation of the software.
An app shortcut will appear on your smartphone screen. Now go to the settings section, click on "Basic" → "Manage device". Find the mobile app in the list and click "Trust".
How to Update iOS App
Updating iOS software is automatic. The user does not have to uninstall outdated software and download the 2022 installer from the 1Win website. The mobile software searches for new files by itself. If they appear, it offers to update the software. All that remains is to confirm the installation process:
Open the 1Win programme;
Click on the refresh button;
Wait until the new files are installed.
1Win App for PC
The 1Win app for PC does not differ from the mobile app in terms of features, gaming products and services. It provides access to the betting company's services even when its website is unavailable due to technical failures. You can use it to:
Open and verify a gambling account;
View statistics and video broadcasts;
Make deposits and request a cashout;
Place bets on past and future events;
Play lottery, video slots and live dealer games;
Participate in promotions and a loyalty programme.
The software is supported by laptops and desktops that meet the following requirements:
| | |
| --- | --- |
| Operating system | Windows 7+, MacOS |
| RAM | 2GB |
| ROM | 100 MB |
| Processor | 2 400 MHz |
| Video card | 256 MB |
| Screen resolution | 1024×768 |
How to Download App for PC
Players can 1Win India app download from the company's website. It is not advisable to use software from third-party sites, as it may contain malware and phishing software. The installation process takes a couple of minutes and is not much different from the installation of other software:
Go to the section with the PC version. Open the 1Win desktop website and click Application for Windows/ Application for MacOS in the top menu.
Download the file. Click "Install" in the pop-up window to download the installer.
Start the installation process. Go to the "Downloads" folder, click on the downloaded file and confirm unzipping.
Open the app by clicking on the 1Win icon on the desktop and log in or register.
How to Update PC App
From time to time the PC Client undergoes changes due to the addition of new features and bug fixes. To use the latest version of the software, do not ignore offers to install updates. These are usually displayed when you start the software. If you are sure the update is out, but the system does not prompt you to install the new files, it means the software is not running smoothly. This is often due to:
Damage to the programme files;
Blocking certain options by an anti-virus programme;
Server failures.
If this is the case, it is best to reinstall it by downloading the current version from the website. Uninstall the old software beforehand, otherwise the application will not work correctly.
Deposits and Withdrawal Methods in 1Win App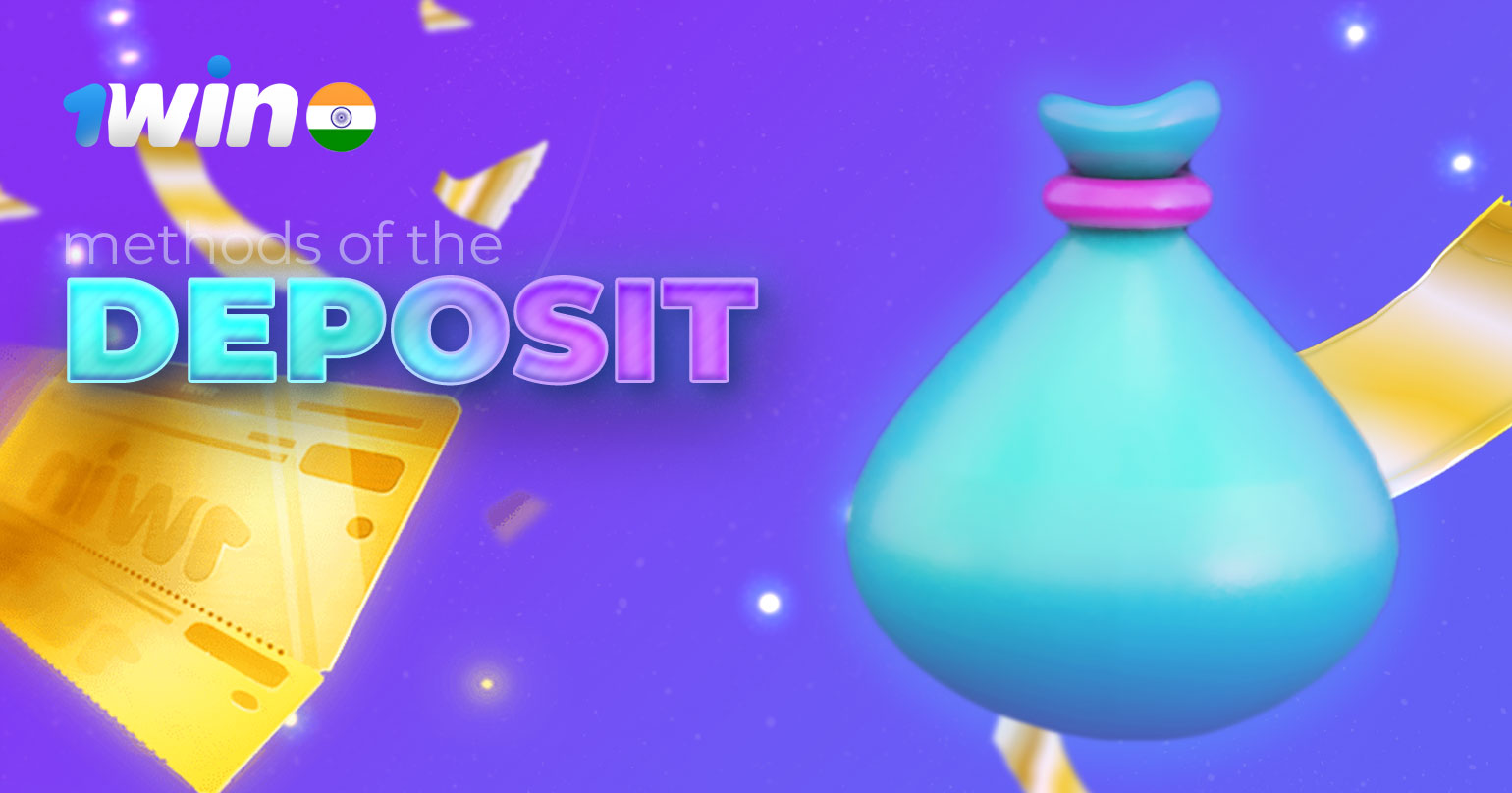 There are more than 20 ways of depositing and withdrawing money at the till, which are popular with players from India. Money can be transferred via bank cards, virtual vouchers, e-wallets, mobile transfers. Cryptocurrency payments are supported: BTC, LTC, XMR, DASH, XRP, USDT etc.
Deposits are accepted from 300 rupees. No deposit fee is charged. Cashout requests are available from 1,000 rupees. Deposit times vary from 15 minutes to 72 hours and depend on the payment provider chosen.
| | | | | |
| --- | --- | --- | --- | --- |
| Payment systems | Minimum deposit | Maximum deposit | Minimum output | Maximum output |
| PhonePe | ₹300 | ₹50 000 | – | – |
| PayTm | ₹300 | ₹70 000 | – | – |
| Gpay | ₹300 | ₹100 000 | – | – |
| Phonepe | ₹300 | ₹100 000 | – | – |
| UPI | ₹300 | ₹100 000 | – | – |
| Bank transfer | ₹1 000 | ₹100 000 | – | – |
| BHIM | ₹300 | ₹100 000 | – | – |
| IMPS | – | – | ₹1 000 | ₹90 000 |
| Airtm | ₹250 | ₹75 000 | – | – |
| MuchBetter | ₹75 | ₹730 000 | ₹1 000 | ₹90 000 |
| MoneyGo | ₹150 | ₹745 300 | – | – |
| MoneyGo voucher | ₹300 | ₹744 300 | – | – |
| Perfect Money | ₹100 | ₹70 000 | ₹1 000 | ₹90 000 |
| Bitcoin | ₹400 | ₹100 000 000 | ₹1 500 | ₹900 000 |
| Ethereum | ₹500 | ₹260 804 765 | ₹1 500 | ₹911 371.9 |
| Tron | ₹300 | ₹70 000 000 | ₹1 200 | ₹911 371.9 |
| Tether ERC20 | ₹2 668.72 | ₹73 000 000 | ₹1 200 | ₹911 371.9 |
| Tether TRC20 | ₹2 668.72 | ₹73 000 000 | ₹1 200 | ₹911 371.9 |
| Tether BEP20 | ₹2 668.72 | ₹73 000 000 | ₹1 200 | ₹911 371.9 |
| BNB – BEP20 | ₹780 | ₹32 754 740 | ₹2 055.14 | ₹911 371.9 |
| BUSD – BEP20 | ₹780 | ₹32 754 740 | ₹2 300 | ₹911 371.9 |
| BUSD – ERC20 | ₹780 | ₹32 754 740 | ₹2 300 | ₹900 000 |
| USDC-BEP20 | ₹1 346.98 | ₹32 754 740 | ₹2 278.43 | ₹911 371.9 |
| USDC-ERC20 | ₹1 346.98 | ₹32 754 740 | ₹2 300 | ₹911 371.9 |
| USDC-TRC20 | ₹1 346.98 | ₹32 754 740 | ₹2 300 | ₹911 371.9 |
| Litecoin | ₹300 | ₹13 000 000 | ₹1 500 | ₹911 371.9 |
| Monero | ₹300 | ₹18 000 000 | ₹2 500 | ₹911 371.9 |
| Bitcoin Cash | ₹300 | ₹45 000 000 | ₹1 500 | ₹911 371.9 |
| Dash | ₹300 | ₹15 000 000 | ₹1 500 | ₹911 371.9 |
| Doge | ₹300 | ₹75 000 000 | ₹1 500 | ₹911 371.9 |
| Zcash | ₹300 | ₹10 000 000 | ₹1 500 | ₹911 371.9 |
| Ripple | ₹300 | ₹75 000 | ₹1 100 | ₹911 371.9 |
| Stellar | ₹300 | ₹24 210 | ₹1 150 | ₹911 371.9 |
How to recharge via 1Win mobile app:
Log in to the app;
Click "Deposit" at the top of the screen;
Choose a financial service;
Please specify the deposit amount and payment details;
Enter the verification code and confirm the payment.
Deposits are credited to your account instantly. If the balance is not replenished, contact the support staff.
Welcome bonus for players from India when making a deposit to your account. Claim your bonus right now and place your free bet or spin the spins.
Register on 1Win App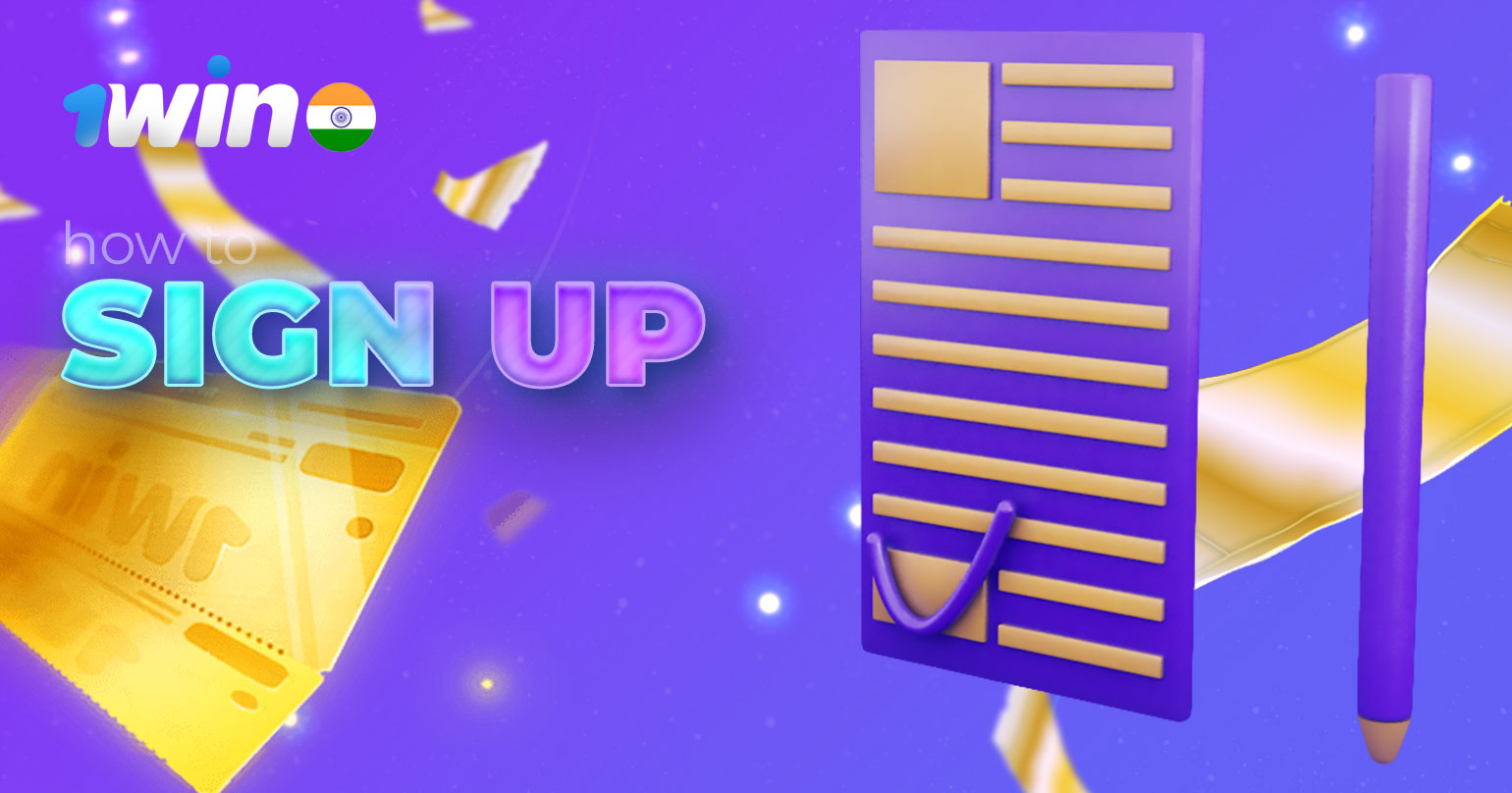 Quick one-click registration is not offered. A few months ago it was possible to open an account in two ways:
Via social networks – authorisation via Facebook, Yandex, Steam, Telegram, OK.RU, Mail.ru, Google and VK.
By email – completing a form with contact details, account currency and password.
At the moment, only full registration is available, with the account linked to an email account.
The user may only open one account, which is suitable for both sports betting and casino games. When filling in the form, it is necessary to give true information about yourself, then there will be no problems in confirming the data during the verification of the profile.
Instructions on how to register via the mobile app:
Click "Sign In" in the top right corner;
Write your name, date of birth, e-mail and telephone number;
Choose an account currency and come up with a strong password;
Accept the terms of the user agreement;
Click on the "Register" button.
Login 1Win App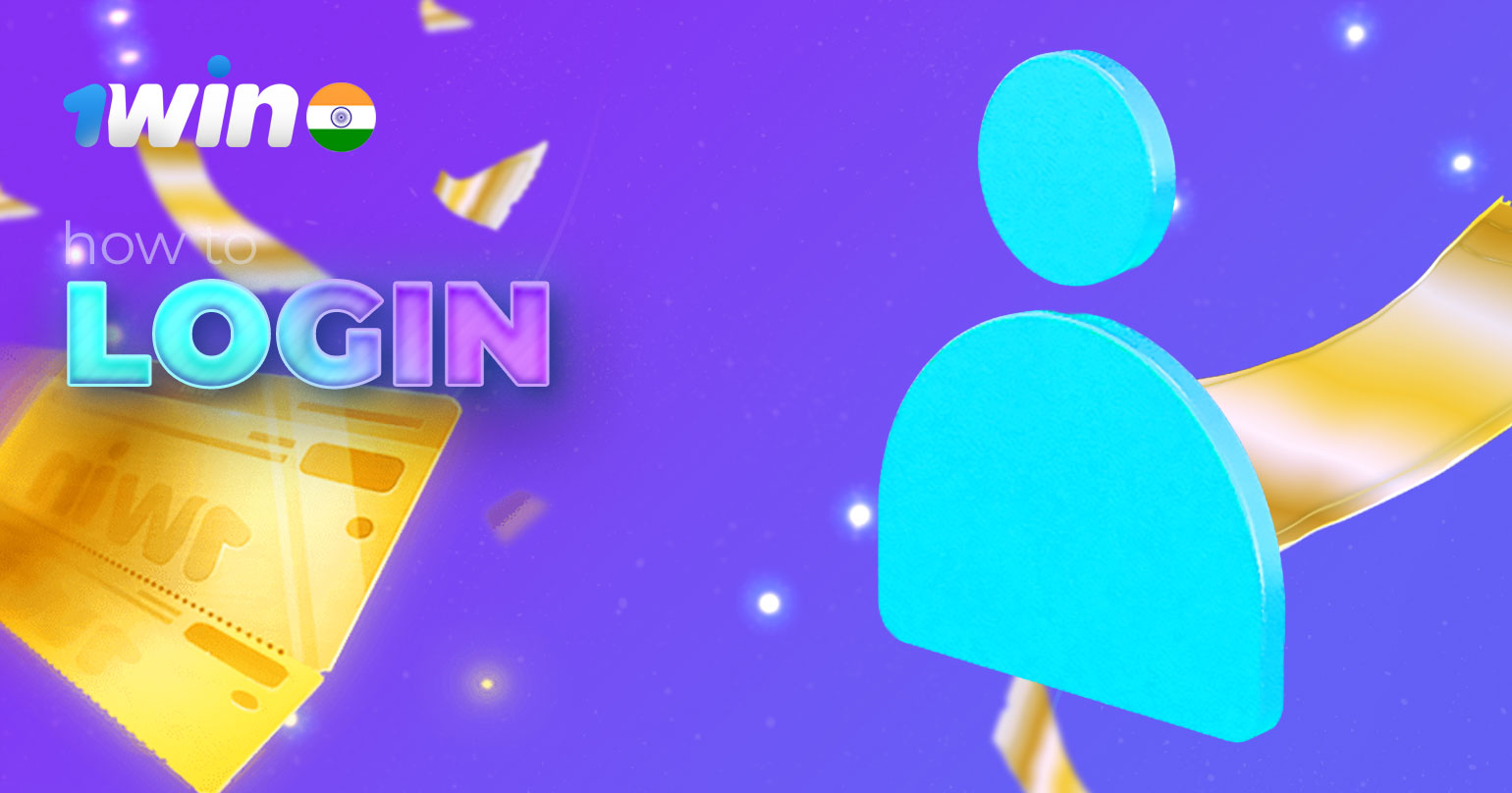 There are two ways of logging in – classic and via social networks. 1Win has deliberately not removed additional options so that users who have had time to complete the simplified registration will not have difficulty accessing their account. If you have opened an account following the instructions above, then:
Click "Sign In" at the top of the screen;
Enter your phone number or telephone number;
Enter your profile password;
Click on the login button at the bottom of the form.
In the 1Win app login to your personal account via social networks takes a maximum of 5-10 seconds. Simply click on the logo of the online platform of interest and confirm authorisation.
1Win Betting App Review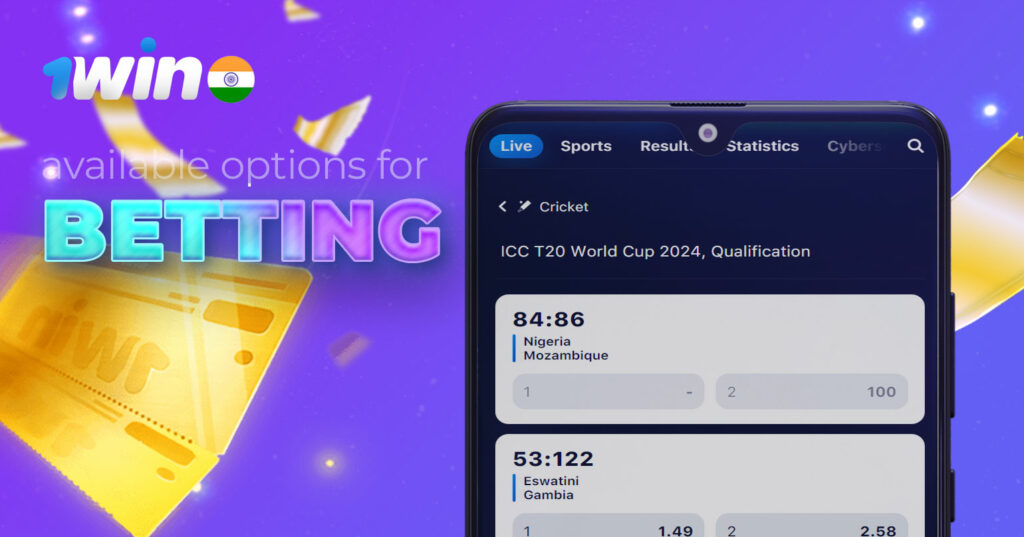 The betting sections are well thought out: there are filters for sorting events, lists with popular odds and statistical data. Home bets are accepted in the Sport section, which has two tabs:
Sports – a list of the disciplines that are covered;
Events – prestigious events from a variety of sports.
At the top of the page there is an option to search for tournaments and matches by keywords. There are also filters to sort events by start time – in 1, 2, 3, 4, 5, 6, 12, 19, 20, 22, 23 and 24 hours. For the most accurate predictions, you can use information from the Statistics and Results sections.
The 1Win app India supports betting on upcoming and current games. Live betting is done in the Live section. Lists of status events in cricket, football, basketball, kabaddi, tennis, baseball, hockey and other disciplines take up most of the welcome page.
Pre-match Line
There are three types of bets available to mobile players: singles, spreads and system bets. The line includes dozens of sports, including popular ones in India:
Cricket;
Basketball;
Football;
Kabaddi;
Tennis;
Table tennis;
Ice hockey;
Baseball;
Handball;
Australian football;
American football;
Floorball;
Golf;
Boxing;
Rugby;
Snooker;
Darts;
Volleyball;
Water polo;
Cycling;
Squash;
MMA;
Cybersport;
Gaelic football;
Motorsport;
Herling.
Cyber sports events on Counter-Strike, League of Legends, VALORANT, Dota 2, Call of Duty, Rainbow Six, PUBG, StarCraft II, Rocket League and King of Glory are widely covered. The special bets section includes predictions on cultural events, economics and politics. Events of interest are added to your favourites with a single click.
Cricket is central to the sporting line-up, as evidenced by the huge selection of marquee matches in the top and side matches:
Sheffield Shield;
Big Bash League;
Indian Premier League;
Ford Trophy;
Logan Cup;
Bangladesh Premier League;
CTPL Premier League 1st Grade, Women;
LMS World Champs;
European Series T10;
Uganda National League;
SCA Club;
NCCA Premier;
ICCA Arabian Cricket League;
CAP Inter District T20;
Cooch Behar Trophy;
West End One Day Cup.
1Win offers bets on hundreds of tournaments in India, Sri Lanka, New Zealand, Australia, Pakistan, Bangladesh, England, Ireland and other countries. Not only the traditional outcomes, but also statistical indicators such as total runs and wickets taken, best pitcher and batter.
How to bet via 1Win app
Authorised users who have made a deposit can place a bet. Follow the instructions to place a bet from your phone:
Choose a discipline. Open Sports or Live and click on the desired sport, for example cricket.
Search for an event. Look through the line-up and click on the tournament or league of interest, for example the Indian Premier League.
Make out the coupon. Click on the odds of the outcomes that seem most likely to happen.
Confirm the bet. Click on the button in the centre of the bottom menu to open a ticket. Select the type of bet, specify the amount you wish to bet and click "Make a Bet".
The bet will be settled within 15-30 minutes of the event taking place.
1Win Casino App Review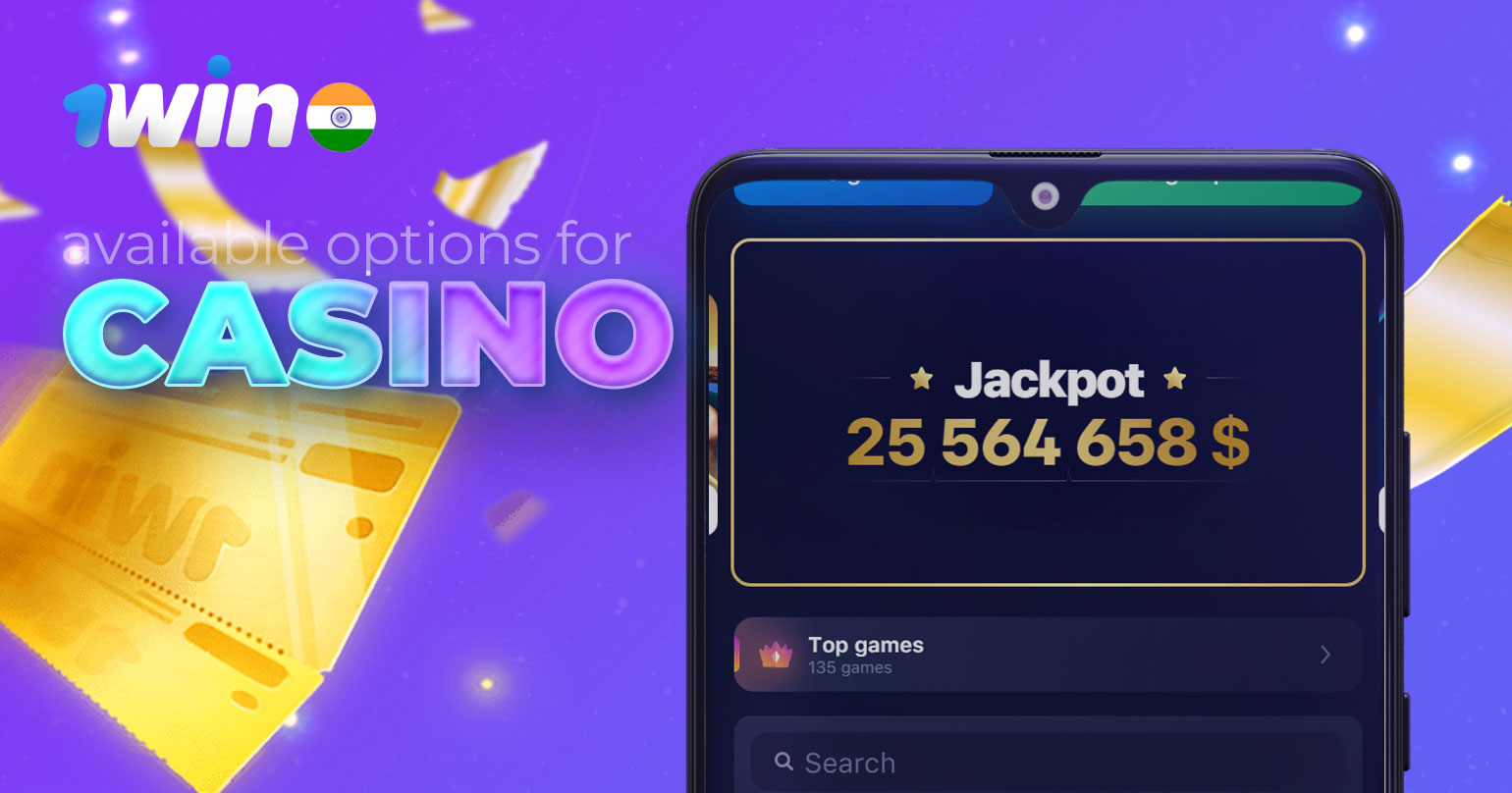 All the sections with gambling entertainment are contained in the side menu, which can be accessed by clicking on the three-bar button in the top right-hand corner. The bottom navigation bar shows only two of them – Casino and Live-games.
The 1Win casino app supports more than 10,000 entertainment options, most of which are video slots. There are filters for sorting games according to different parameters:
Popularity;
Developer;
Categories.
Additionally, a keyword search is offered. Most slots are run in test mode, with a zero balance. Demo modes are not available for live games and machines with cumulative jackpots.
1Win's management has put an emphasis on the variety of slot machines. The collection includes 3-reel models, 3D slots, multi-cylinder and non-linear machines, games with bonuses and progressive jackpots. Emulators of different themes are offered: fruit, sports, historical and mystical. Modern machines with prize symbols and 100 or more paylines are popular.
Vivid graphics, smooth animation and user-friendly controls are the hallmarks of 1Win games. Many of them open with a short video that reveals the plot twist. An example of such a slot is Iron Man from Playtech, a game with interactive features and a fascinating storyline.
There are also over 2,000 table games: blackjack, sic bo, craps, baccarat, poker and roulette. There's also lottery-format entertainment such as bingo, keno, scratch cards and craps. The Indian Games category is full of themed games:
Teen Patti;
Andar Bahar;
Cricket War;
Indian Lottery;
Bollywood Night;
Kabaddi Raiders
Indian Roulette.
Live Dealers
Live-games contains games with live dealers from Ezugi, Evolution Gaming, Red Tiger, NetEnt and other official providers. When sitting down at the virtual table, users feel like they are in a real gambling hall, which is made possible by the high interactivity of the gameplay. The top most popular attractions include:
Andar Bahar;
Crazy Time;
Mega Roulette;
Dice Classic;
Quick Blackjack;
Namaste Roulette;
Monopoly Live;
Fan Tan;
Baccarat VIP;
3 Cards Poker.
The 1Win Games tab contains the company's own developments: Lucky Jet, Royal Mines, Bombucks and other crash games with instant draws.
1Win Poker App Review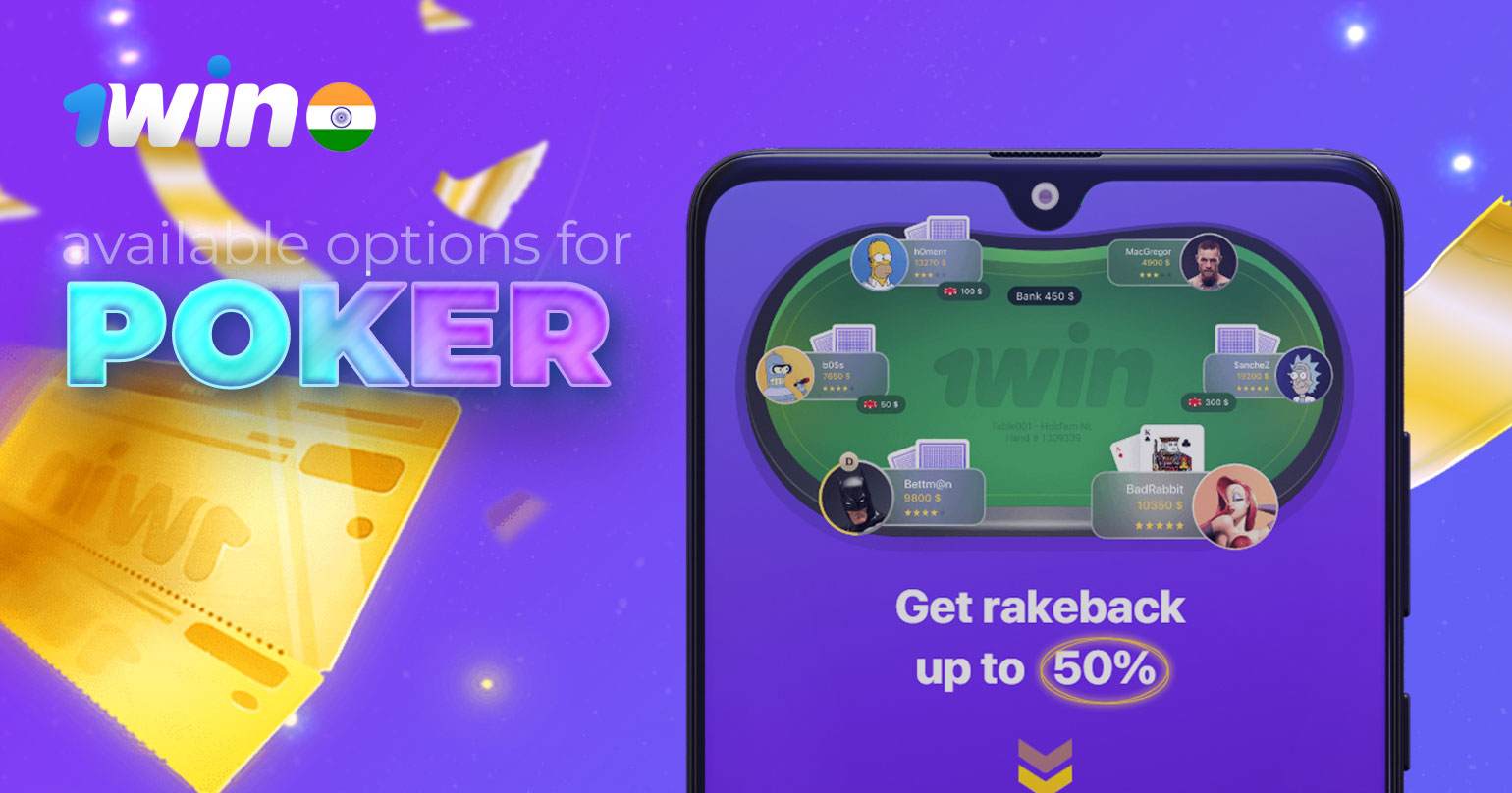 Online poker is one of the areas of work at 1Win. It's different from the poker offered in the Casino section. Here, you don't play against a virtual opponent, but against other users on the platform. Play is offered online or through a separate app that can be downloaded from the website. If you choose the first option, then:
Open the side menu;
Select the category "Poker";
Click on the "Play Online" banner.
The player pool is made up of users from several rooms that are part of the Cubeia network. There are several poker formats to choose from:
Cash games. Three table types are available: Heads Up, 6- and 9-max. Texas Hold'em, Pot Limit Omaha games are supported.
Tournaments. There are freerolls (yvettes with free registration) and multi-table events with Texas Hold'em play.
Active users can participate in a loyalty programme with a rakeback of up to 50%.
1Win App Advantages
The 1Win programme is highly regarded not only by users but also by experts in the world of sports betting. They highlight its benefits as follows:
Autonomy. The app continues to function even if the company's website is under technical maintenance or is unavailable due to blocking by regulatory authorities.
Fast operation. Pages load almost instantly, regardless of the stability of your internet connection. The same applies to updating the in-play odds.
Lots of settings and options. Mobile players can use the same features as on the 1Win website. There is a betting and transaction history, bonuses, a sports betting line, a huge selection of gambling games and payment systems for deposits and withdrawals.
The interface is identical to the website, so players don't have to waste time looking for content or teams of interest.
1Win App or Mobile Site
For those who do not want to download additional software to their smartphone, a mobile version of the website has been developed. It does not differ from the app in terms of the selection of commands or the interface. Both platforms have the capabilities of the main 1Win resource, providing independence from the computer. The only difference is in the way they can be used.
Mobile Application
Pros and cons of a native application:
✓ High quality video streaming
✓ No requirement for data transfer speeds
✓ Economical consumption of Internet traffic
✓ Instant information update and page loading
✓ Wide range of user settings
✖ Compatible with only one OS – Android or iOS
✖ Occupies ROM
✖ Needs updating
Mobile Site Version
The browser-based client is a great substitute for downloadable software for players using low-powered devices. But it has strengths and weaknesses too:
✓ Support for all mobile browsers
✓ Correct operation on older devices
✓ Works without software installation
✓ Does not need to be updated
✖ Data is encrypted using HTTPS only
✖ Poor video quality
1Win App Support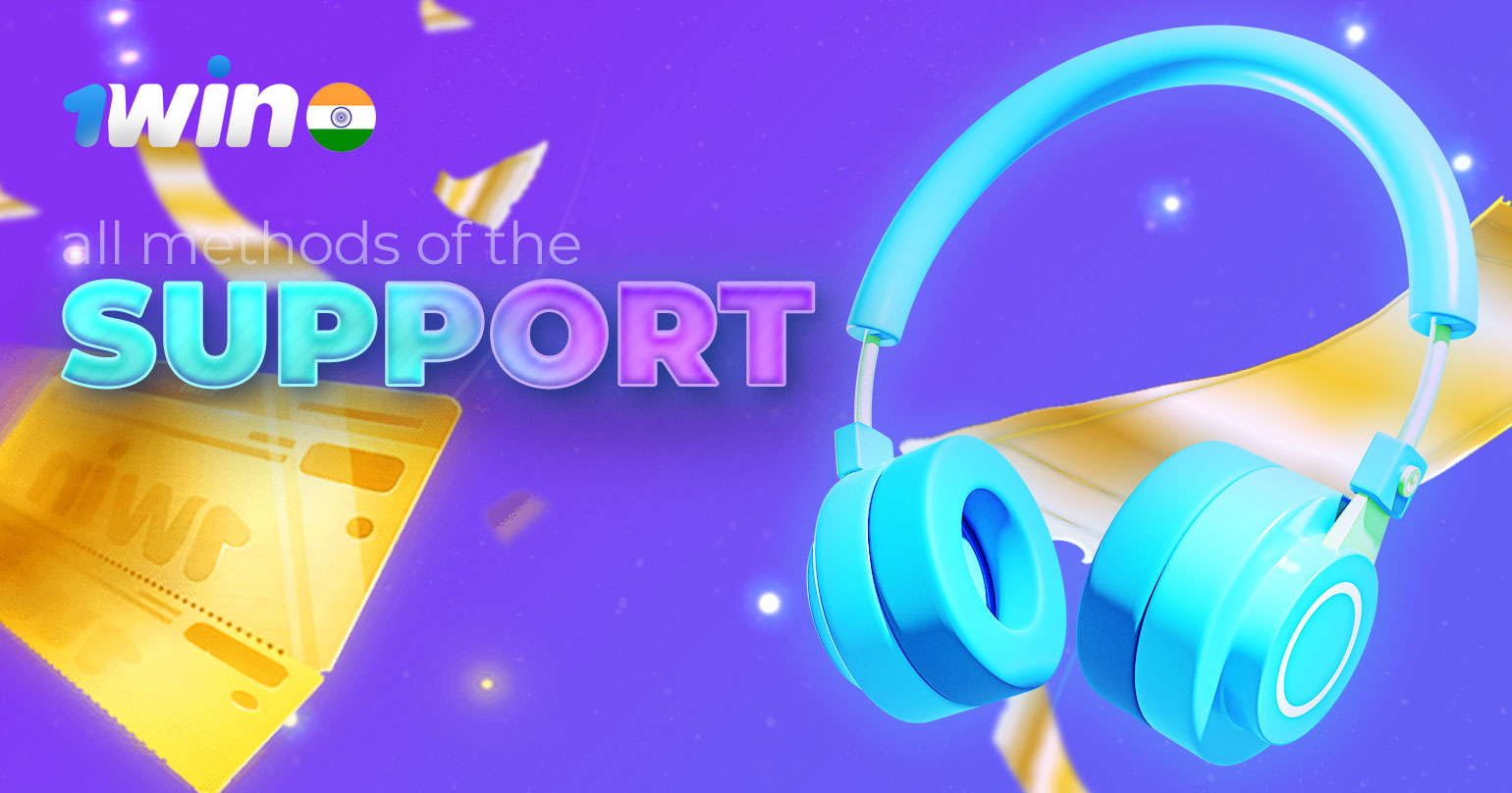 Support is available 24/7. They can help players with any problems concerning finance, registration, identification, betting, software installation and other issues. The following channels can be used to contact them:
At the bottom of the home page there are links to your social media channels: Instagram, Facebook, Twitter and Telegram. Sign up to receive timely information about new promotions, services and products from 1Win.
1Win app legal in India?
Gambling and sports betting offered by 1Win is legal in India. There is no mention of online gambling, sports betting, in the Information Technology Act 2000, which regulates cyber activities in the country. This means that Indian players can use the services of a betting company without incurring any administrative or criminal liability.
The 1Win website is owned by 1WIN N.V., whose legitimacy is confirmed by license 8048/JAZ2018-040 issued by the Curacao regulator. It gives the right to organise and operate online gambling in many Asian countries, including India.
FAQ
How do I download the Android app via PC?

You can only download 1Win app for Android via the mobile version of the website. Scroll down the page, click on the logo of the desired operating system and run the installer.

Do I have to pay to install the mobile app?

No, 1Win's proprietary software is distributed free of charge. This applies to both mobile applications and PC software.

Is it possible to block the app?

No, the app works independently of the website.

Is it safe to use the mobile client?

Yes, the app uses state-of-the-art data encryption technology, so the risk of personal data leakage is minimal.

Why doesn't the app update?

The software may be malfunctioning. Try uninstalling it and downloading up-to-date software from the 1Win website.